Latest Entry
Feb 10, 2012 Uncategorized 643 Comments
Posted by admin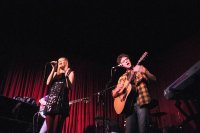 Real estate agent and lead music singer in a band; not many people can say they are a jack of all trades and Michael Libow loves both very much. He began working as a real estate agent in 1986 however while he continues to become a successful Beverly Hills agent he also has time to remain a lead singer in his band called the Rod Lightning and the Thunderbolts of Love and there have been numerous gigs that have been played as well. They have a number of fan based pages that allow you to follow them and remain up to date on future events and tour dates near you.
This band focuses more on classic rock music and there have been a number of artists that have influenced the band's choice of songs and choices. Some of these artists include John Cougar, Tom Petty, The Rolling Stones, ZZ Top, U2, JET, John Mayer, Jimmy Eat World, and many more. They have a FB page that allows fans to follow them.
They have played a number of gigs from 4th of July festivals to even the Apple Harvest Fair in 2010 which was really when they started making their breakthrough as this was the largest crowd they had ever played for. They also took part and were a few cover bands for other concerts that were being performed. There have been gigs that date back to May of 2010 and even earlier.
This band has a number of hit songs including Everyone Wants You, American Girl, After the Storm, Sugar and Spice, Close to You and All American Blues just to name a few. The 4th of July celebration in 2009 included the Rod Lightning and the Thunderbolts of Love Band and this took place in El Segundo Recreation Park.
This band was a part of a fundraiser in Library Park in 2010 which was designed to help raise money to prevent a school from having to make 11 layoffs. This band has become well known across LA and the Beverly Hills area and Michael Libow has a voice that sounds amazing as well.
A real estate agent of 25 years and a singer of classic rock gives him the edge he needs to be loved by all and allows him to have a personality that is easy to like and click with from the beginning. He continues to grow over the years, and while his band does not have any tour dates upcoming, they are working on something to bring to all of their fans. They continue to ply their hit songs at local events and charities or fundraisers, and that seems to be working to keep the fan crowds coming back for more.
You can follow them on their Facebook and mySoace accounts and these are kept updated to allow you to see the newest hit songs as well as any upcoming vents they may become a part of. They may have things up their sleeves and all you need o do is stay tuned and follow them wherever possible!